Overhaul- Service
When we (Service)overhaul a watch it's completely taken apart then ultrasonically cleaned and re-oiled. We also time the movement and ultrasonically clean and polish the casing and bands. Lastly, the watch is reassembled and re-timed. Most watch brands suggest you service your mechanical watch every 4-5 years.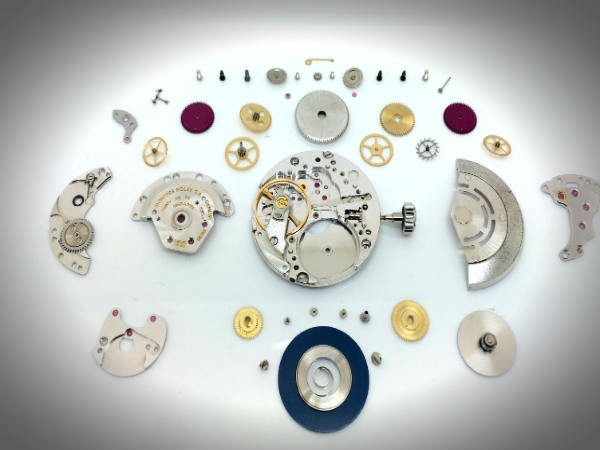 Every time we (service) overhaul a watch, you can rest assured that it's totally taken apart, ultrasonically cleaned and re-oiled. We are able to time the movement and carefully clean and polish the bands and casing. Ultimately, the timepiece is reassembled and re-timed. The majority of watch brands recommend you service your mechanical timepiece every 4 to 5 years.
As with any sort of mechanism of precision, a complete overhaul is crucial to your precious watch to keep its value as a timekeeper or investment.
Mechanical  watches     (whether  manually  wound  or self-winding)     should  have  this  complete  overhaul every  three to  five  years.
A routine complete maintenance or complete overhaul includes the following:
• Total disassembling of watch and movement followed by thorough inspection of every part
• Cleaning and repair of damaged or worn movement parts, as required with the help of genuine parts
• Reassembly of movement, calibration of timing mechanism and oiling of jewels
• Refinishing and polishing of bracelets and case, unless otherwise instructed
• Quality control within 72 hours, including water resistance test to factory specifications, timekeeping, and visual inspection
• 1-Year service guarantee
In strict adherence to the guidelines of the watch manufacturer and utilizing only original parts, all work is conducted in our innovative workshop followed by a severe series of quality controlled tests, at the same time geared by a 1-year guarantee.
Testing and Quality Control
The efficient and rigid inspections performed by our certified quality control experts (ETA qualified & certified watchmakers) follow the high standards we place on every work undertaken at our facilities. Further, every watch and mechanism, without exception, are subject to a collection of rigorous visual inspections and technical tests to confirm their accuracy, water resistance, winding power and overall performance.
ONLY WHEN YOUR WATCH HAS PASSED ALL STAGES OF OUR RIGOROUS QUALITY REQUIREMENTS WILL WE SUBJECT A 1-YEAR GUARANTEE

Post to Workshop
If you are not able to visit us in our workshop, you can always send us your item. PLEASE NOTE: use Registered Post or Signature on delivery or Platinum Express option.

Fast Turnaround
Most of our quick repairs are completed within 24 – 48 hours of receiving them.
PLEASE NOTE: Quick repair include glasses repairs, or battery replacements

ETA Qualified Watchmakers
Founded in 1793, ETA is one of the world's largest manufacturers of Swiss watches and movements.
Our watchmakers are ETA certified and trained.

Quality Guarranted
Our work comes with warranty.
Our watch repairs are guaranteed for one year.
Our glasses repairs comes with six month warranty.
[envira-gallery id="2208″]