Watch Repairs During Melbourne Lockdown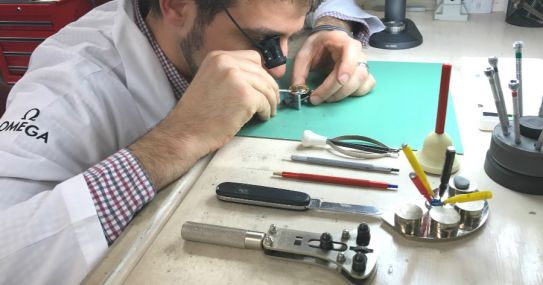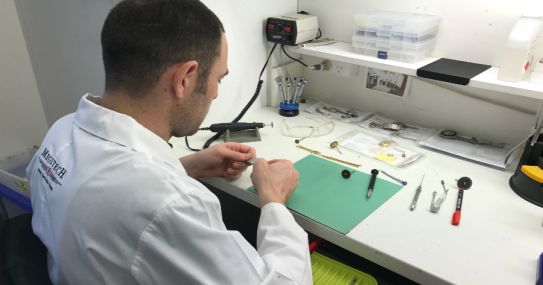 Do you have a watch in need of repair or battery replacement? We're open during the lockdown in Melbourne and here to assist you. Customers may send watches to us or bring them in person for professional repair. From watch battery replacement to repairs on your watch band to crystal replacement, we can expertly restore your timepiece safely and quickly. At Migitech, we specialize in Swiss brand watches including Longines, Rado, Tag Heuer, Rolex, and more. Whether your timepiece has been damaged in some way or has simply stopped working, we'll assess the problem and make the necessary repairs.
Health and Safety Measures We're Taking
Providing services during the pandemic and the current lockdown means that we must take safety seriously. We're taking numerous measures to protect the health and safety of our customers and
our watch repair technicians. Our technicians wash and sanitize their hands frequently and continue to maintain our high standards for cleanliness and hygiene. All watches brought to us for repairs are
ultrasonically cleaned according to type and depending on brand specifications. We will email invoices to avoid hard copies and provide for a smooth transaction.
We're also utilizing HiTech's Air Reactor machine to filter the air and kill bacteria and viruses on our premises. Social distancing measures, as outlined by federal authorities, are also in practice. Customers may send timepieces to us or drop them off in person. Despite the situation in Melbourne, we're continuing to work and provide our expertise to customers in need of watch repairs, refurbishment, and battery replacement. You may bring us your timepiece for efficient, expert repairs, and have peace of mind that we're taking proactive safety measures.
Watch Battery Replacement
We may be currently experiencing a lockdown in Melbourne, but we still need our timepieces to keep the correct time. If your watch has slowed down significantly or has stopped working, the issue may
as simple as the need for a battery replacement. We're able to perform Longines battery replacement, Tag Heuer battery replacement, Rado battery replacement , Raymond Weil battery replacement in addition to many other high-quality brands.
There are just a few steps to professionally replace the battery in a Quartz watch. Migitech watchmakers follow a specific procedure. First, we determine which type of case back your watch has. There are 3 main types:
Pop-style cover
Screw cap cover
Case back with several screws
We safely and expertly remove the case, remove the battery cover, and identify the type of battery used. We measure the battery to determine how much energy has been drained from it. We'll put in a brand new battery and replace gaskets if needed. If required by the manufacturer, we will perform a water resistance and pressure test. Your watch will be back to running like new.
Other Watch Repair and Refurbishment Services
In addition to performing watch battery replacement services, we also specialize in repairing all models and makes. Bring your watch to us for precise, professional repairs. Our services include:
If you're a swimmer or regularly wear your watch in the water, you should have the seals on your timepiece checked every 3 years to ensure their integrity and performance. We test for water resistance and pressure.
If your watch currently has an electronic or mechanical movement, we can replace it with an electronically regulated quartz movement. For most watches, this conversion will not alter the lens, hands, face, or watch casing.
We offer a full line of watch straps and bands for replacement. If your existing watch band is simply in need of repairs, we can take care of that for you.
The watch crystal is the front part that is typically made of either plastic or glass. If your watch crystal is cracked or damaged in any way, we're able to replace most with the same design. Rather than buying a brand new watch, replace the crystal and restore it to like-new condition.
Most watch brands recommend that you service your mechanical timepiece every 4-5 years. To do so, we take the watch apart completely. We then ultrasonically clean it, re-oil it, time the movement, polish the casing and the band, and then carefully and expertly reassemble and re-time it.
The little knob on the side of the watch is known as the crown. This is what allows you to set the time. The stem is the piece that is attached to the crown and goes inside of the watch itself. When either of these pieces becomes damaged, they can typically be repaired with original parts.
Automatic watches or those that are wound daily require regular maintenance. Many of the moving parts need lubrication in order to function correctly. For optimal performance, we can lubricate the many moving parts inside of such a watch.
Do you have a vintage timepiece that needs to be restored to its original beauty? Whether it's a family heirloom or an older watch that it's meaningful to you, we can carefully and expertly restore your mechanical watch and give it the time and attention that it needs.
We're very pleased to be able to remain open for business and provide our expertise to customers in need of Longines service for watch repairs, Tissot, Dior, Raymond Weil, Oris, Breitling ,Tag Heuer
and more. Bring us your Rolex for refurbishment ( service)or trust us for high-quality repair services. We specialize in Swiss brands and offer reasonable watch repair prices. We take care to ensure a job well done for every watch and satisfaction for every customer. We know how important and valuable your timepiece is to you and we can restore it to like-new condition. For customers located in Sydney, Perth, Adelaide, or  Brisbane, you're welcome to send your timepiece to us and we will make any and all necessary repairs. You may also drop your watch off to us in person. We look forward to providing our precision watch repair services to every customer in need during this challenging time.